The conference was over, I moved closer to the city center and what better way to recover from a few very intense days of listening, sitting and learning a lot than a good walk. So after pinning some points on the map out I go. Into the city that a few others here at TeaTra.de know so well.
But important things first. The hotel I stayed at during the conference was good, but did not have something in the room to boil water. Considering I could get tea at the conference or ask the reception this was a nuisance but not a great problem. However when I noticed that my new hotel did not have one in the room either and it was 4 floors down with high, old and not quite straight stairs to the reception it was more than a nuisance. So out I went. And just in time I found a new friend at Saturn before being kicked out.
So out I went with a filled flask into the city and the garbage. Moving through barrier fencing, stepping over empty bottles, flags and avoiding overfull garbage bins (ok, I'm exagerating a bit for dramatic effect). In other words everything you would expect from a place where a couple of hours before a lot of people passed by fast and a lot of people standing still, waving and shouting. It was the second day of the Dextro Energy Triathlon.
So on I went through a further quiet city , it was a Sunday after all. After a while I arrived somewhere in the middle of Planten un Blomen. In and left I went over the "Große Wallanlagen".
Planten un Blomen
"Planten un Blomen" (plants and flowers) is a 47 hectares large park in Hamburg. The first plant was planted in 1821. The garden contains a lot of subgardens, some of which I will show in this or a future post.
Hamburgmuseum
At one end of Planten un Blomen is the Hamburgmuseum, a museum about Hamburg. Like most cities Hamburg has a museum about itself. It tells about its history and people. According to the brochure this musum houses the largest city history exhibition in Germany. And I can see why it is a candidate. The place iss huge. For a city history museum that is. Centainly the largest city history museum I've been to. Bigger than Paris and that one was not small either. Unfortunately the story was a bit confusing. But that might be due to the fact that I first went to the temporary exhibition and then from there to the main exhibition. In other words I entered it somewhere in the middle and in the wrong direction. In other words the signs where to start should be much improved for idiots like me.
Short history: Charlemagne ordered building of castle Hammaburg in 808 to defend against slaves. Destroyed and rebuild several times. The first thanks to Vikings, Polish and Danish people and fire. 1189 Imperial free city, 1241 alliances with Lübeck starting the Hanseatic League. 1806 sovereign state Free and Hanseatic City of Hamburg. Annexed by Napoleon freed by the Russians. 1860 state of Hamburg became Republican. Large part of the city destroyed by Allied bombings. 1949 state in the Federal Republic of Germany. 1962 flooded.
Hamburg became big through trading and its port is the tenth largest of the world and the second in Europe (after my birth-city).
Some tea
I did not find much tea-items. Of course I might have missed several in that place, but here are some. Shortly after I found some earthenware (Yixing?) pots. Unfortunately those photos are unusable. Still need to improve my dark circumstances skill with this (or any) camera.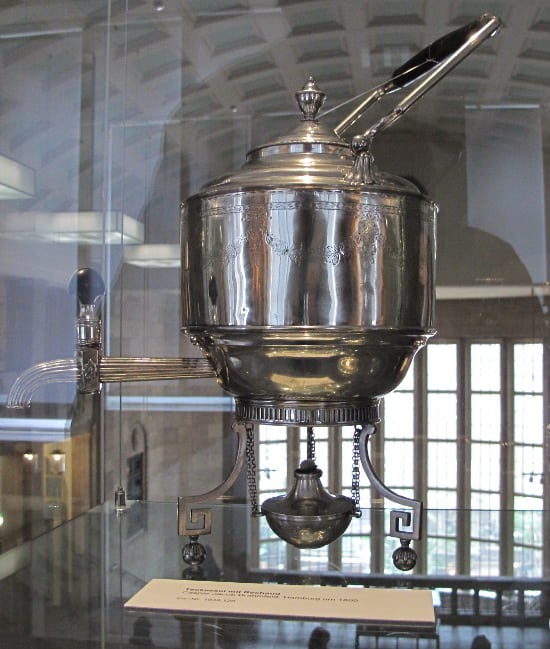 The attic
In the attic of the museum is a large abode of what was still to come. A model railway in scale 1 (1:32) depicting the traffic between Hamburg central station and Hamburg. It was started in 1949 and restorated in the late 1990s after some electrical problems in 1994. To give an impression the track width is 45mm the length of the tracks is 1200m. 80 train-engines are making their rounds on these tracks. (numbers 2009)
Afterwards
After the museum I walked through the city until I reached the Elbe, which I followed for a while from Baumwall to the Altona fishmarket and then through the city back to the hotel, passing the City Hall where they were cleaning up the mess the organization, sporters and supporters made.
* Prange, Carsten, Auf zur Reise durch Hamburgs Geschichte; A Journey through Humaburg's History", 1990, M. Glogau jr. Verlag, Hamburg. (German + English)* Museum guide Hamburgmuseum
* 60 jähriges Jubiläum der verkehrshistorischen Spur 1 Modelleisenbahn im Museum für Hamburgische Geschichte. (German)
* Hamburgmuseum
* Planten un Blomen